Jacqui, Christa, myself, and a bunch of other friends decided to goto a Tiger's game Saturday night, and I'm happy to report that we are single handedly responsible for breaking the Tigers' losing streak/slump.
Two things happened that evening which directly lead into this post.
First, CJ got a ticket on the way down because a cop on a bike didn't like the tint on his car. Having the patrol supervisor right there didn't help either. Second, (if any parents read this, please skip the next six words – although the post probably won't make any sense, you can use your imagination and picture us sitting at home eating Oreo's and milk if it makes you feel any better) we got wasted at the game.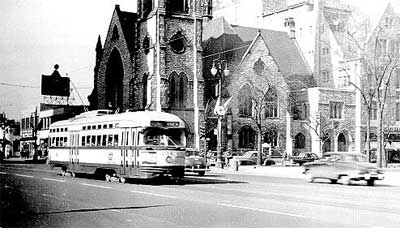 I remember making a comment before we left to go downtown about how nice it would be to hop on a tram/trolley/streetcar and just head down for the game – no fuss, no muss, no worrying about designated drivers or fighting about who is stuck DD. Today I read an editorial in the Detroit Free Press, and I think it sums it up better than I could.
Emerging plan is region's last, best chance
Imagine a rapid transit line running along Woodward, from Jefferson to New Center, by 2010. Now picture that line extending to 8 Mile by 2015, and similar lines appearing along Michigan Avenue, M-59 and Telegraph Road by 2020 or so.
Southeast Michigan has suffered so many false starts and dead ends on the road to building a regional mass transit system that it may seem naive and hopeless to believe any of that could happen. Indeed, this is one of the few cities among the nation's largest that has no rail line and no immediate plans to build any. You can't even catch a train from the airport to downtown Detroit, something that can be done with ease in many cities of far smaller size.
Ironically, MDOT completed 99 percent of its work on the Woodward/Eight Mile Bridge and unveiled six 8-by-15-foot art panels on the overpass depicting transportation scenes from the Metro area dating to the early 1900s, one of which shows the final ride up Woodward of the red line streetcars running from downtown to the State Fairgrounds in 1956. 51 years ago, there were streetcars which traveled all over the city of Detroit, all the way out to the suburbs. I could have walked from my house to catch one to ride downtown! 51 years ago, the city disbanded it's streetcar service in favor of regional bus routes, which in turn have nearly dwindled into nothing.
I for one welcome any discussion regarding transit in the metro Detroit area. Having traveled to many cities around the country and internationally, I can say how developing a regional transit system is VITAL to the Detroit renaissance. If there's one thing that this area needs to work together on, this is it. The future of southeast Michigan is hanging in the balance.