I could have taken the easy way out on my porch project, but I didn't. I could have put ugly green Astroturf to hide the crumbling steps, jammed a bunch of concrete into the part on the side crumbling and painted it, or just fucking stuck a huge flower pot in front of it to hide it. Nope, we chose to take it out and rebuild it to improve the aesthetic of the front approach to our house. Seemed like a good idea at the time…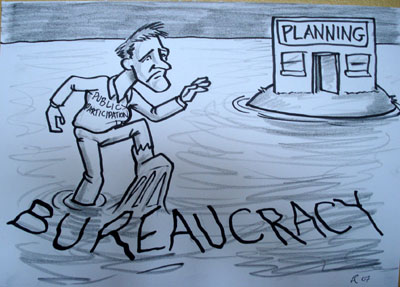 © Caricatures Ireland
So I went down today for the second time to apply for a building permit to rebuild my porch. The first time I went I got a brief overview of what I needed to submit, so I went back this morning to submit it hoping I could get started working this weekend. Apparently that won't be happening. After speaking with the building inspector, he apparently has taken an interest in my project because now he is requiring:
A site visit to verify construction materials & the dimensions of the old porch
Verification that my new porch will not encroach farther than the average porch of every house within 650 feet of either direction of my house on my side of the street
Pictures of the old porch
A property survey
12-14 days for plan verification before approval
That's all super fantastic except that:
I don't have a fucking property survey, so lets add another fee to my list of costs I wasn't planning
I have a huge fucking hole right outside my front door which I can't do anything with for 12-14 days while he verifies my plans, construction materials, and old dimensions
I would like to give the city the benefit of the doubt and think that they (Ferndale) appreciate my youthful enthusiasm and willingness to learn about home-owner processes, but if there is one thing I can't stand is all this bureaucratic bullshit.