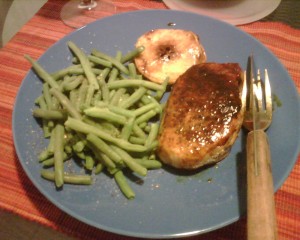 Maple Mustard Barbecued Pork Chops
INGREDIENTS
1/2 cup dark amber maple syrup
4 tablespoons, 1/4 cup, spicy brown mustard
1/4 cup apple cider
1/4 medium onion, finely chopped
1/2 teaspoon allspice, eyeball it in your hand
1 teaspoon ground cumin, 1/3 palm full
8 center cut boneless pork loin chops, 1-inch thick
Extra-virgin olive oil, for drizzling
Grill seasoning blend or salt and pepper (preferred brand McCormick Montreal Steak Seasoning)
3 golden delicious apples, sliced across into 1/2-thick inch disks
DIRECTIONS
Preheat grill pan or nonstick griddle pan over medium high heat. Preheat electric table top grills to high. Preheat oven to 350 degrees F.
Combine maple syrup, mustard, cider, onion, allspice and cumin in a small saucepan and cook together over moderate heat for 5 minutes until sauce begins to thicken a bit.
Coat chops lightly in oil and season with salt and pepper. Cook chops on hot grill pan or indoor grill 3 minutes on each side. Baste chops liberally with sauce, cook 2 or 3 minutes more. Transfer chops to a baking sheet. Baste again with sauce and transfer to a hot oven to finish cooking them. Bake 10 to 12 minutes, until your apples are ready to come off the grill pan.
Wash apples but do not core or peel. Coat apple slices with a drizzle of oil. Season with grill seasoning or salt and pepper. Cover grill pan or indoor tabletop grill with as many pieces of apple as possible. As the apples get tender, pull them off and replace with more slices. Apples should cook 3 minutes on each side, you don't want them too soft, just tender.
Platter chops with apples along side and serve.