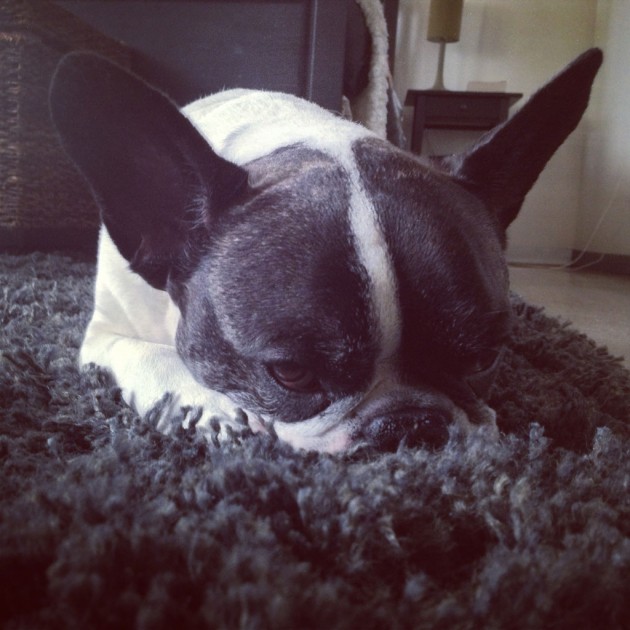 Today marked a year since Monty's original GME diagnosis, and I wish I could say no news is good news. Over the last two and a half weeks while he no longer seems in any pain and we haven't seen any overall worsening of neurological symptoms, he has descended back into the Prednisone zone/funk and has already developed a hotspot/skin infection similar to what happened last year.
After I was injured early last week the doctor prescribed me Tramadol with the same dosage that Monty was taking, and after discovering how it made a 150 pound human feel we immediately decided to taper him off. Luckily by this time the heavy Prednisone dose seemed to have started working it's magic on the GME so didn't seem to be in any further pain. I can only imagine how the 35 pound dog must have felt with that much Tramadol, but once he was tapered we immediately had to start back up with the 2 hour bathroom break routine so I'm pretty sure he just couldn't feel anything. Unfortunately it's also plain to see the Prednisone saving his life is ravaging his muscle tone and strength once again with the emergence of "pred head", water retention, and splaying of his legs when he sits or lays down.
Yesterday I happened to find a small clump of matted fur on his back and after some investigation and clipping discovered a dime sized hotspot on his back. Given the history and our leftover supplies we were able to trim his fur, wash the wound, and start treating with Iodine & prescription topical powder (Neo-predef With Tetracaine). So far it seems to have been kept in check but will of course have to keep a close eye on it for any worsening.
Today marks the end of the two week 15mg 2/day high dose of the Prednisone, and we begin the slow tapering process again with 10mg 2/day. Our next recheck and Cytosar treatment with the neurologist is scheduled for 7/26, so we continue doing our best to keep him doing his best.