I stopped the live updates from the Cabbage Diet Day 2 because a) it was all starting to sound the same, and b) I had a near death experience from the lack of food. I cracked on the 1st full day and ate a salad WITH DRESSSING!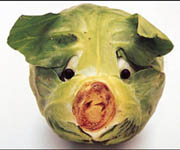 Day 3 dawned full of the prospect of milk & bananas all day, plus the super extra tasty awesome cabbage soup I made. Hell yeah! I cracked by noon and had a Panera sandwich. When I got home at 7pm, Christa was also done with the whole thing. So what would any diet-crazed half-starved human being do? We had Taco Bell.
How do you spell Cabbage Diet?
S-P-E-C-T-A-C-U-L-A-R-F-A-I-L-U-R-E
Christa said she lost 3 pounds by Thursday. I managed to gain 1.
Never again.