Monty Python's Spamalot, the musical that set theatre back 1,000 years and captured Broadway's Holy Grail (the tony award for best musical) was back in Detroit for a brief appearance at the Fisher Theatre in downtown Detroit. Lucky for us we caught the last show Sunday night. Who says there's no culture** in Motor City?!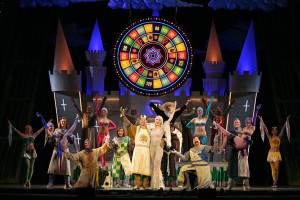 The show is lovingly "ripped-off" from the internationally famous comedy team's most popular motion picture, Monty Python and the Holy Grail. Telling the tale of King Arthur and the Knights of the Round Table in their quest for the Holy Grail, the campiness and satire from the 1974 movie translated nearly flawlessly to the stage. Well-integrated scenery and props were almost never a hindrance to the story being told. Many spots were funnier than the movie and possibly more irreverent; not just to religion and culture, but to Broadway itself. Most importantly, they even gave it a local spin by joking about ex-Detroit Mayor Kwame Kilpatrick in the show.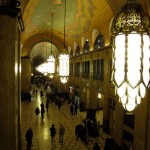 All in all it was a fantastic show, and a great excuse to see the Fisher Theatre for the 1st time, and the place is beautiful! The lobby area features some art deco tile work lavish with an Aztec-theme in the Mayan Revival style (thank you wiki!) with some insane detailing.
All in all this was a great show and a great (work) night out on the town!
** Any Broadway show referencing farts in particular directions and waving private parts at one's aunties is TOTALLY cultured.