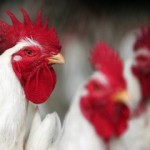 Speaking of Wildlife In Detroit…
Just when I thought I'd heard it all, something like this comes along!
DETROIT (AP) – Authorities are trying to determine who dumped more than a ton of frozen chicken outside an old auto factory in Detroit.

The Detroit News reports at least 30 boxes containing the more than 2,000 pounds of sealed chicken breasts were found Sunday afternoon at the former Fisher Body plant on the city's southwest side.
Source: Detroit News
I'm sure it wasn't Kwame, he'd never let a breast go to waste…
Anyone have a good recipe for General Tso's chicken?