We went to Costco this weekend and stocked up on some meat to freeze and use for dinners over the next month or so. I picked up some absolutely GIGANTIC filet mignon steaks for $6.00 each, and with a couple fresh veggies and other items on hand, I threw together this delicious dinner for the 2 of us for under $18.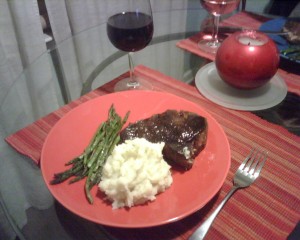 Filet Mignon with Rich Balsamic Glaze
INGREDIENTS
2 filet mignon steaks
1/2 teaspoon freshly ground black pepper to taste
salt to taste
1/4 cup balsamic vinegar
1/4 cup dry red wine
DIRECTIONS
Sprinkle freshly ground pepper over both sides of each steak, and sprinkle with salt to taste.
Heat a nonstick skillet over medium-high heat. Place steaks in hot pan, and cook for 1 minute on each side, or until browned. Reduce heat to medium-low, and add balsamic vinegar and red wine. Cover, and cook for 5 minutes on each side, basting with sauce when you turn the meat over.
Remove steaks to two warmed plates, spoon one tablespoon of glaze over each, and serve immediately.
Baked Asparagus
INGREDIENTS
1 bunch asparagus
salt and pepper to taste
2 Tbsp olive oil
DIRECTIONS
Break the asparagus from the weak point on the stem.
Place the asparagus in a plastic bag with the olive oil and toss to coat.
Arrange asparagus in a single layer on a baking sheet and cook at 400°F for 12-16min to desired tenderness.
Garlic Smashed Potatoes
INGREDIENTS
4 large russet potatoes, cleaned & sliced, skin on
1 Tbsp butter
splash of milk
1 glove garlic minced
a bit of fresh dill
DIRECTIONS
Boil the potatoes for 15-20mins or until tender.
Add the rest of the ingredients and smash the potatoes in the pot.